What is a caricature, definitely hard to pronounce but Don Howard's caricatures are wonders to behold. Each likeness bears a striking resemblance to the subject, but not in an exaggerated or grotesque manner.
Don Howard Custom Caricatures
Can't think of a suitable gift for that special occasion, whether it is a birthday, employee retirement or wedding anniversary. Let Don Howard create a memorable keepsake for you! Each caricature illustration is beautifully drawn and crafted using the finest art supplies and is truly the gift that becomes a family heirloom. Our custom caricatures are hand-drawn and NOT computer generated!

Please add $50 for each additional subject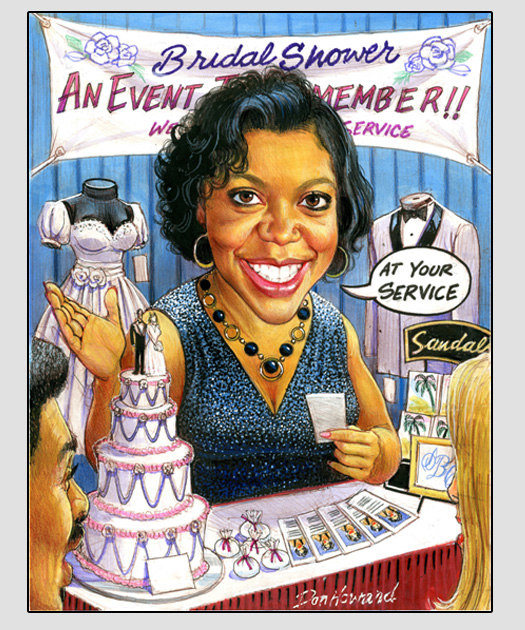 Size 11x14 One Subject $300
Down Payment: $50
NOTE: No more than TWO subject
Size 16x20 One Subject $350
Down Payment: $100
NOTE: $50 for each additional subject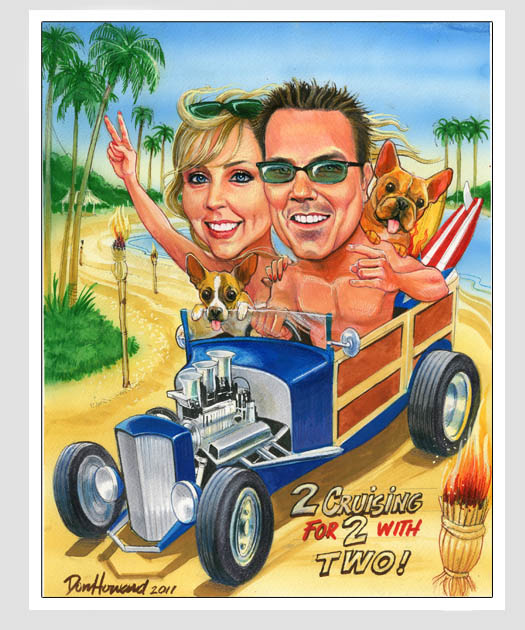 Size 16x20 Two Subjects $400
Down Payment: $100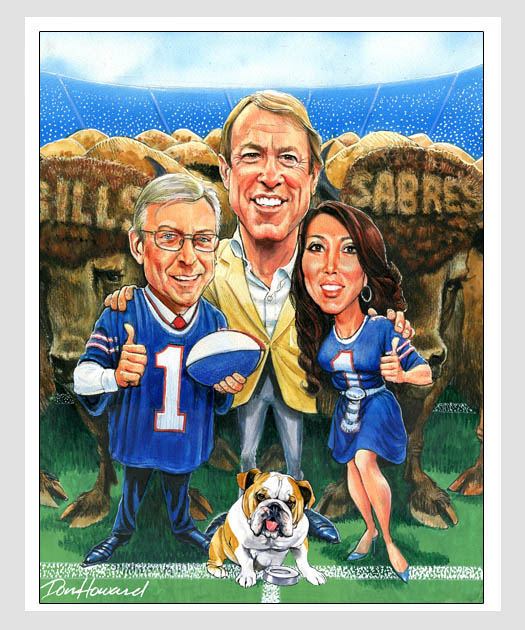 Size 16x20 Three Subject $450
Down Payment: $100
To order your Custom Caricature, please click the "CONTACT US" button above and complete the form. You may also email us at donhoward@donhoward.org
FREQUENTLY ASKED QUESTIONS
How long will it take to complete my caricature?
Our Customs are hand-drawn and not computer generated. Turnaround time is
usually two weeks after receipt of photos and scenario for one subject. The process will be longer for two or more subjects.
Can I get a print of my caricature?
Prints are available in sizes 8x10 ($10 ea), 11x14 ($12 ea) and 16x20 ($20 ea).
Will I be able to see a proof?
We do not provide proofs unless prior arrangements have been made in advance. We are very confident that you will be pleased with your caricature.
We do not provide a digital copy of your caricature prior to delivery.
Shipping
Our preferred method of shipping is via U.S. Postal Service, priority mail. The cost will be added to the final invoice.
Can I get a refund if I am not pleased with my Celebrity Caricature Prints
Our overall goal is to ensure that our customers are happy with the services we provide. We would first replace the print. If you are still not satisfied, we would ask that you return the print in the same condition as received and a full refund will be issued. We would not pay the Shipping Cost to return the print.